School Results and Performance Tables
Please press below to read a letter received from Nick Gibb MP
This letter recognises the very high levels of progress that our pupils made in their reading, writing and mathematics.
The results below are provisional results for 2022-23.  The last available public data is from the 2018 to 2019 academic year. 
Key Stage 1 - assessment summary 2023

Key Stage 2
SATs Results 2023

It is important to note that our average scaled score is above all other schools in Barking and Dagenham and England.  It demonstrates that our pupils make above average progress from KS1. We are very proud of the exceptional progress that pupils make during their time at Beam. 
KS2 Greater Depth 2023

Multiplication Tables Check (Year 4)

EYFS Good Level of Development

KS2 2018 - 2019 results

Progress Scores
Our progress scores, which are in the top 10% nationally for reading, in the top 12% for writing and the top 13% nationally for maths, show that our pupils make significantly above average progress between KS1 and KS2. Progress in Reading has been ia particular strength for the past three years.
Average Scores
Pupil marks are converted into scaled scores to allow for direct comparison year-on-year. A scaled score of 100 is the 'expected standard'. The highest possible scaled score is 120. This shows that our average scaled scores are significantly higher than the 'expected standard'.  In particular, we have always had a trend of more pupils working at a higher level nationally. 

Results over 3 years - Pupils achieving at a higher standard in reading, writing and maths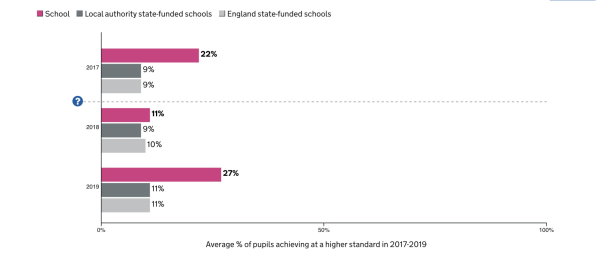 Results over 3 years - Pupils meeting expected standard in reading, writing and maths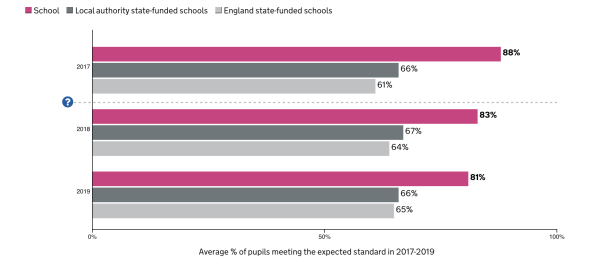 Striving
Inspiration
Community